Bees are

amazing

!
If you knew what we learned, you might not be so scared of bees!

Through numerous activities and discussions we explored:  How bees make honey;  How Flowers become Fruit; (more @ M&B  Pollination day back in May)  and How all those bees and bee babies fit in one hive with all that honey?
(this is where Geometry saved the day!)
Check out this link to a kid-interesting Bees in History timeline that takes you from Dinosaur days, which is when flowers and BEES first lived on our planet, through time to when a hive of bees lived on the SPACE SHUTTLE in outerspace.

We did a little more than make Pipe cleaner bees…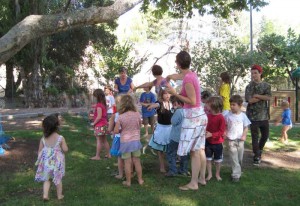 First off the kids practiced the two types of bee dances that a bee performs to the hive to show where to find flowers. Bees dance in circles and crazy eights if flowers are less than 100 yards.  But if they are further than that, they do more of a waggle dance.  The direction, speed and loudness of their buzzing also helps indicate the direction to fly once outside of the bee hive.  Bees use the SUN to determine direction to the flowers and the angle of their waggle in relation to the sun, even inside of the hive is how they do it.  That's MORE geometry!

Bring on the
GEOMETRY

or

SHAPE FUN

!

Kids and parents were divided into groups (not teams, because learning should not be viewed as a competition, but purely as Exploration).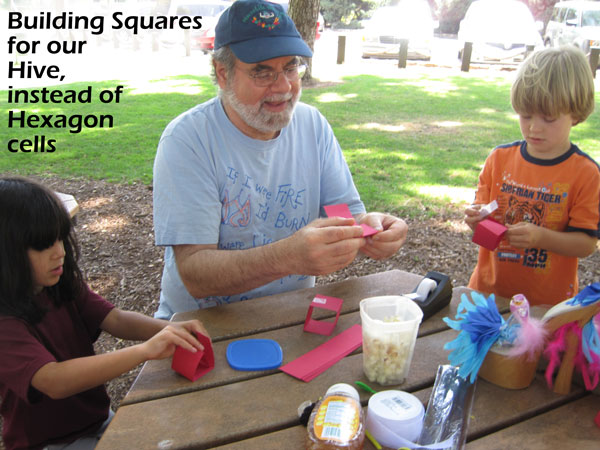 Each group was given strips of paper of one color.  Depending on the color, their papers were pre-creased with a different number of equally sized segments.  Some had 3 sides when folded, some 4, some 5, some 6 and some 8.

They would make their shapes (and identify shape due to the number of sides) and then try to fit them together like a puzzle. And then asked…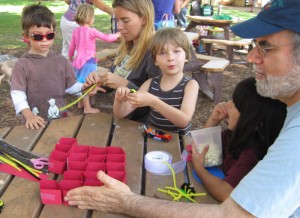 Which would be the most efficient USE of hive space? Which would be the most sturdy? Which might break apart easily with fewer sides attached to each other?   Would one blend in better with the natural surroundings?


The little  balloons represented the bee larvae that were raised in the wax cells. They are laid by the queen bee, deposited by one of her assistants and then with baby bee food would grow to fill up an entire wax cell.  Baby bee food is commercially called Royal Jelly:  a mixture of more nectar than pollen and bee spit.
The kids discovered that Nature chose wisely.

Hexagons (6-sided shapes) are the most efficient, streamlined and sturdy.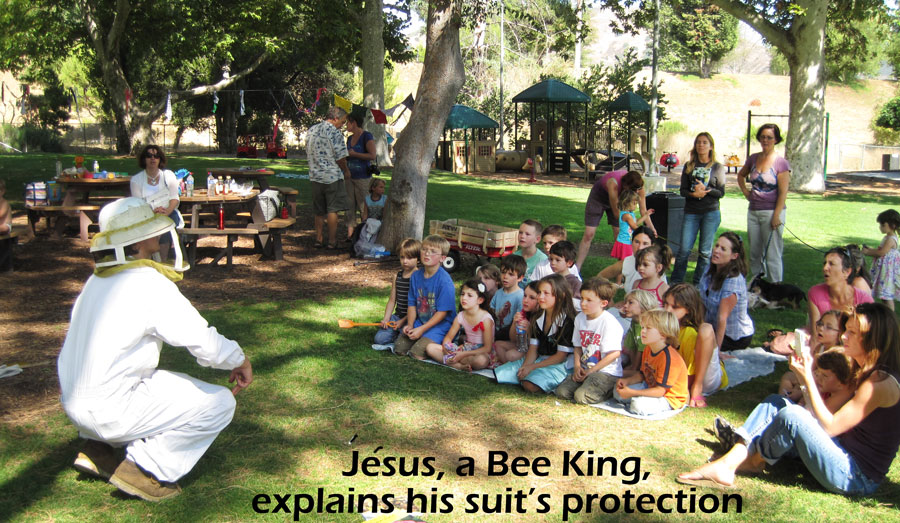 Jésus is a bee removal specialist.  His job is to gently and safely take the bees away from someone's home or other non-ideal spot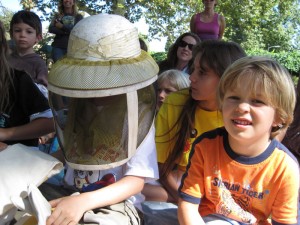 for a hive, and then relocate them to his friend, a bee farmer.  This bee keeper cares for them in a grove of Avocado trees and collects the Avocado-Pollen flavored Honey.
The kids got to hold the fumigator which uses smoke to get the bees drunk and calm for relocation.  Jésus passed around his hat and gloves for the kids to try on.  He did a great job explaining how he captures hives with the ONE queen bee and relocates them to their new and happy home.
And then it was time for the
YUMMIEST

game ever.  See if you can name the

flowers

that flavor each of the Honeys.

What a stunning day of learning about The AMAZING BEE – nature's pollinator and food producer.  With all 5 of our senses involved, the exploration and learning will stick forever.  Thank you to everyone who participated and made the experience even greater by
Learning Alongside your Family.