Mudpies & Butterflies New Year's Celebrations will start at 12:30, parkday starts @11:30 am.

1.  Group Honoring Ceremony to set intent for MudPies & Butterflies' New Year . (
Time to share any food or items that represent New Years to a culture dear to you – totally optional.

)
2. Make Drums and other musical instruments with your recyclables YOU bring from home (

Coffee tins, pringles containers and paper towel rolls, cereal or kleenex boxes

).

3. Decorate Parade Dragons (directions calls for
chopsticks, bring sticks from
backyards or our park grounds

) and dragon masks (We need

crepe paper or other recycled ribbons

)
4. Read New Year's Books and Tell Dragon Stories as this is the Year of the Dragon (last year was year of the rabbit) on the Asian calendar.
5. 3:00/3:30  Have our Own Loud and Musical Dragon Parade (no firecrackers!)
In our modern day world many families live states and countries apart, making it harder for family traditions to be experienced or passed down. But for those of us living in SoCal, we have an abundance of cultural events and festivals to experience traditions.  New Years is a perfect example.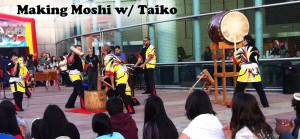 In addition to the New Years Ceremony I created for my family on New Years Eve (see bottom photo), we are attending at least 2 of these four festivals: Japanese New Year's Festival (1/8), the Lunar New Year Fest (1/14), and LA's Chinatown New Year's Parade (1/28) and Vietnamese Tet (2/4&5).
At our Parkday last year,  I got crazy and made the labor-intensive, traditional Banh Chung-Earth Cakes (2 hours prep & 10 hours cooking) to bring Tet, the Vietnamese New Year's experience alive.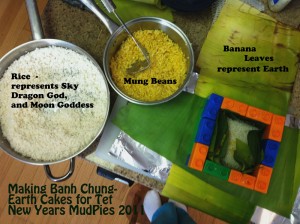 The story goes that the 4,000 years ago, the first Vietnamese King, Hung Vuong created a contest for the food that most represented his kingdom.  The winner would earn the succession of his throne.  Even though there were far more elegant and eccentric delicacies entered, it was the Earth cakes consisting of the simple foods of the people that won.  Sticky rice represents sky and Moon Goddess and Dragon God, wrapped in banana leaves representing Earth, and yellow mung beans and the pork (I made a few vegan versions with out pork) that represented the people.
Even though it is not potluck – I invite anyone who has a particular food or item that is a part of a cultural New years to bring it to the park.  Raised in the South, I will try to bring a (vegan) batch of black-eyed peas as their consumption ensures good luck for the New Year.
In many Asian New Years celebrations loud noises like firecrackers and drums are a part of keeping evil spirits at bay.  So we will make drums and have our own Dragon Parade.  But before we do that everyone in attendance will partake in a New Year's Ceremony to offer gratitude and set intents for the New Year.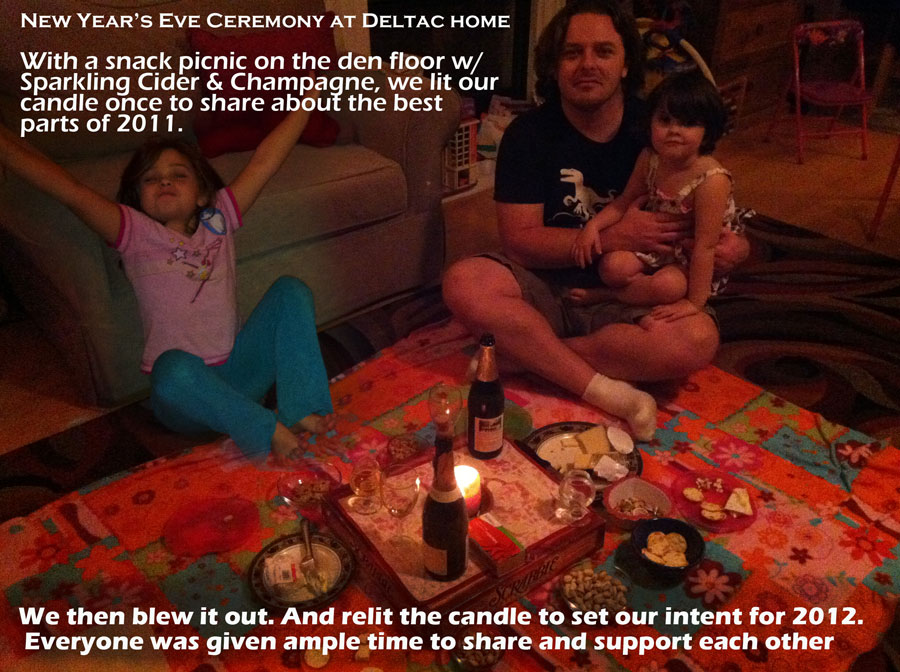 Happy New Year to you all in Many Languages!
Aam Saiid (Arabic), Urte Berri On (Basque), sun lin fi lok (cantonese), šťastný nový rok (Czech), godt nytår(Danish), head uut aastat (Estonian), bonne année (French), prost Neujahr (German), kali chronia (Greek), shana tova (Hebrew), sal mubarak (gujaurti), nav varsh ki subhkamna (hindi), nave saal deeyan vadhaiyaan(Punjabi), subho nababarsho (bengali), hauoli makahiki hou (Hawai'in), nyob zoo xyoo tshiab (Hmong), boldog új évet (Hungarian), Oshagatsu (japanese), seh heh bok mani bat uh seyo (Korean), kia hari te tau hou (Maori), shine jiliin bayariin mend hurgeye (Mongolian), sâle no mobârak (Persian), szczęśliwego nowego roku (Polish), feliz ano novo (Porteguese), un an nou fericit (Romanian)S novim godom (Russian), sanad wanagsan (Somali), feliz año nuevo (Spanish), mwaka mzuri (Swahili), sawatdii pimaï (Thai), tashi delek (Tibetan), yeni yiliniz kutlu olsun (Turkish), naya saal mubarik (Urdu), Chúc Mừng Nǎm Mới (Vietnamese), blwyddyn newydd dda (Welsh).