What impact do you make on your environment?

How do you raise a Conservationist?  You first spend time outdoors.  You listen to what you can hear.  You watch what life is around you: ants and pillbugs; birds trilling calls and cawing warnings; patterns in clouds in the morning, afternoon and evening; and more.  Spending time in Nature creates awareness and compassion for the world about us.  Fortunately for my family, there is alot of nature available in our area.

Even though we don't live IN Topanga, many of our friends do and some of our happiest moments in California have taken place in and about Topanga canyon.  This is why over the past 5 years, we have been involved in many events to help keep Topanga's Web-of-Life intact. On Topanga Earthdays we've helped

clean out the watershed of debris and invasive plants; we have taken many conservation "walk-abouts" with Tracker Rob, and then with the Tree people we have taken out invasive plants and planted indigenous species.  As members of the Topanga Wildlife Youth Group, my children were part of a sacred red-tailed hawk release as well as helped biologists record, research and remove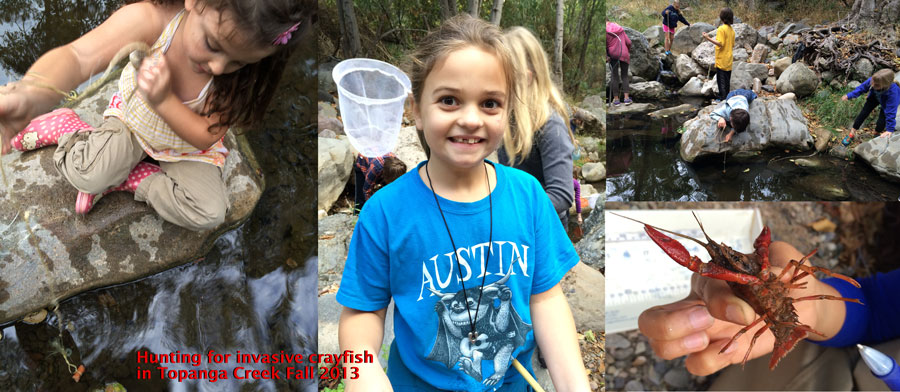 invasive crayfish from the Topanga creek.  Find out a way that you can get involved to help protect your environments and the your personal web-of-life.  Your family will have a sense of pride and an added connection to the world outdoors.  This is one of the best ways to prevent cynicism and complacency from taking hold of a human being.  You need not look further than the faces in these photos to find proof.