Can you believe MudPies & Butterflies is celebrating our FIVE year Anniversary?  I can hardly believe it.  Since July 2009, I've been helping families learn alongside each other.  What a pleasure it has been exploring the world around us with my own children and yours!  Almost exactly 6 years ago, on one of our very first parkdays, we made ice cream.  So at 2:00pm, we will make Ice Cream, but before that, we will have fun with water balloons to ensure everyone stays cool at our favorite breezy park.
In honor of M&B's 5th Anniversary, let's make ice cream (or sorbet) by hand this Parkday.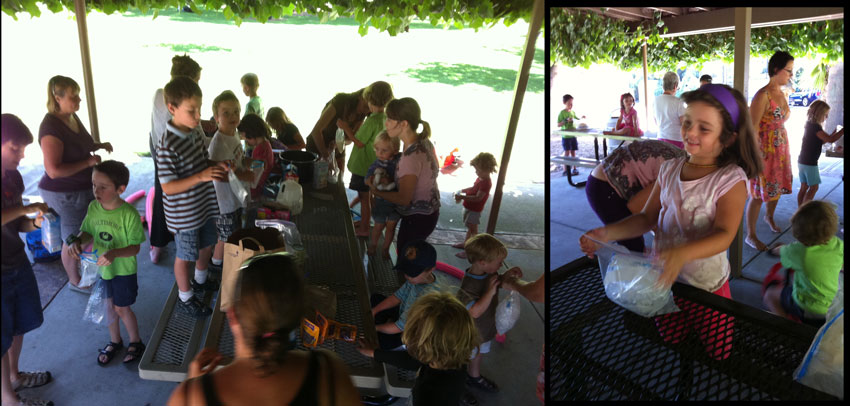 It is so fun (and easy) to make homemade Ice Cream – or Rice Cream at park. (Rice milk for our vegans)
1 Gallon Ziploc for ice & rock salt and 1 quart ziploc for ice cream ingredients(milk/rice or almond milk/cream) & then we shake the bags or Hot Potato them until it freezes and EAT!  Bring your own spoons and bowls – I will supply the bags, ice, salt, sugar and cream.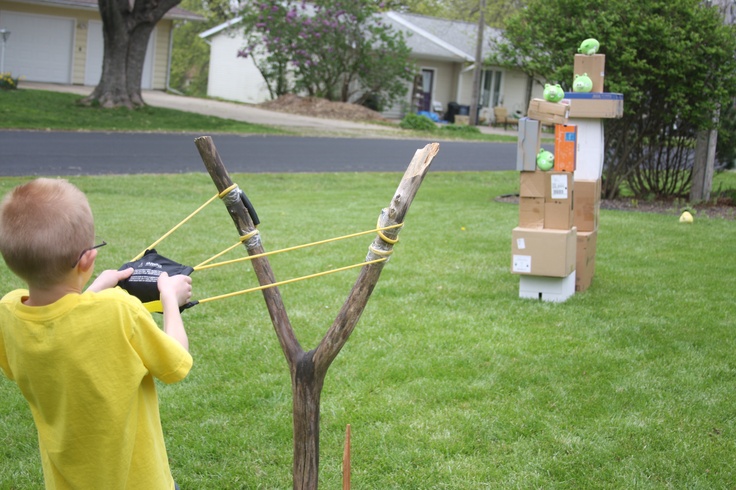 And to ensure we stay cool, let's play some cool games…like Angry Bird Waterballoons.  That should keep us cool, eh?  And for a simpler version for the wee ones… Simple Angry Birds waterballoons.  Who has waterballoons?  Or some cardboard boxes to stack?  I only ask that the kids pick up all the balloon scraps after the games are done.

A bit of Science behind Ice Cream
The outer container is used to house the ice. Ice melts naturally because thermal energy (heat) likes to move from "hot" to "cold" places (high to low concentrations). So the thermal energy from the environment wants to transfer (move) to the ice which has less thermal energy. When heat is added to the ice it breaks the bonds in the ice and causes it to change state, from a solid to a liquid (melting). Salt is added to the ice in the outer container to depress, or lower its freezing point…..making it even colder and the melting process slower!
Another transfer of energy occurs simultaneously. The yummy mixture in the inner container has more thermal energy than the outer container, so again, heat transfers from the inner container to the outer container. When heat is removed from the inner container the mixture changes phases from a liquid to a solid! Yum!  [FYI melting ice is an endothermicprocess (heat is absorbed) while freezing (or crystallization) is an exothermic process (heat is evolved). The "hand warmers" that are sold in which a liquid is crystallized by rubbing the "little disc" or "snapping" something in a pouch to seed the crystallization is an example of an exothermic process we all encounter in daily life.]
Finally by shaking it with you hands, you are adding even more energy into the universe and speeding up the process!
A Bit of History of Ice Cream

Once upon a time, hundreds of years ago, Charles I of England hosted a sumptuous state banquet for many of his friends and family. The meal, consisting of many delicacies of the day, had been simply superb but the "coup de grace" was yet to come. After much preparation, the King's french chef had concocted an apparently new dish. It was cold and resembled fresh-fallen snow but was much creamier and sweeter than any other after-dinner dessert. The guests were delighted, as was Charles, who summoned the cook and asked him not to divulge the recipe for his frozen cream. The King wanted the delicacy to be served only at the Royal table and offered the cook 500 pounds a year to keep it that way. Sometime later, however, poor Charles fell into disfavour with his people and beheaded in 1649. But by that time, the secret of the frozen cream remained a secret no more. The cook, named DeMirco, had not kept his promise.
This story is just one of many of the fascinating tales which surround the evolution of the most popular dessert, ice cream. It is likely that ice cream was not invented, but rather came to be over years of similar efforts. Indeed, the Roman Emperor Nero Claudius Caesar is said to have sent slaves to the mountains to bring snow and ice to cool and freeze the fruit drinks he was so fond of. Centuries later, the Italian Marco Polo returned from his famous journey to the Far East with a recipe for making water ices resembling modern day sherbets.
In 1774, a caterer named Phillip Lenzi announced in a New York newspaper that he had just arrived from London and would be offering for sale various confections, including ice cream. Dolly Madison, wife of U.S. President James Madison, served ice cream at her husband's Inaugural Ball in 1813. Commercial production was begun in North America in Baltimore, Maryland, 1851, by Mr. Jacob Fussell, now known as the father of the American ice cream industry.