The craft for Earthday is PLANTING. 
We are back from Joshua Tree in time to Celebrate our Planet and her Amazing Diversity of Life: Plant, Animal and Geological.  I will be hosting an Earthday Show & Tell.  Kids can bring or share special

memories of their planet, or how they have made it better.  Here are a few ways my family and our involved friends have made a difference by protecting as well as enjoying Earth.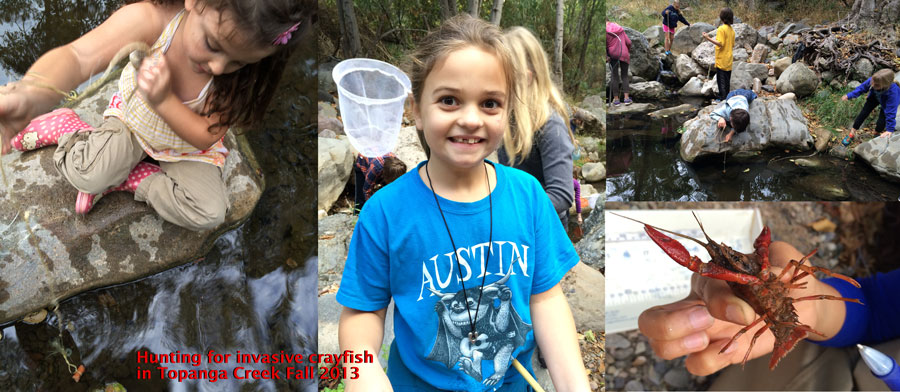 One way we can is by planting seeds, growing our own food, and experiencing the cycle of plantlife. 

The craft for Earthday is PLANTING. 
We will need: Seeds and Seedlings you wish to share. And a stack of Newspapers so I can show everyone how to make biodegradable potters to bring your plants home and put in your indoor or outdoor gardens.  If anyone has Milkweed plants which is the only food for Monarchs, bring those to share too.

My family has taken many conservation "walk-abouts" with Tracker Rob. 

In conjunction with the Tree people, we have taken out invasive plants and planted indigenous species.  As members of the Topanga Wildlife Youth Group, my children participated in a sacred red-tailed hawk release as well as helped biologists record, research and remove invasive crayfish from the Topangacreek. For several years, I volunteered by going out around midnight to count the elusive grunion fish that come ashore to mate during sprint and summertime full moons.

Find out a way that you can get involved to help protect your environments and the your personal web-of-life.  Your family will have a sense of pride and an added connection to the world outdoors.  This is one of the best ways to prevent cynicism and complacency from taking hold of a human being.